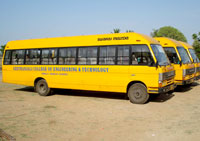 Transport facility for the students is provided from all corners of the city. All buses are driven by a team of trained drivers .Around 30 buses ply from all places to bring students to the college with comfortable and hassle free journey.
The college is situated at a distance of 8 Kms from the ECIL X Roads, which itself is well connected to all the important regions of the city. Therefore, a good number of APSRTC buses ply to this region frequently. Alongside, college owns sufficient buses to bring students on time to the college. The unique fact is that the students are taken care of in the buses too by senior faculty members, such that their needs are well attended to even during the journey hours.
Geethanjali probably is the only such professional college, where the transport is provided to the students on no-profit-no-loss basis. Transport is not a business, only the comfort of the students matters us the most. Experienced drivers having well proven credentials are appointed to drive the buses. Parents at home also feel secured about their wards journey.